Zabriskie Point Showtimes and Tickets
Read Movie Reviews about Zabriskie Point Write a Movie Review for Zabriskie Point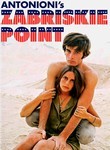 Release Date: 1970-02-09 (Limited)
Genre: Drama,
Rating: NR
Duration: 1hr 52min
Synopsis...
This is a poetic chronicle of counterculture America.
Cast and Crew
Starring
Harrison Ford, Mark Frechette, Rod Taylor, Kathleen Cleaver, Daria Halprin, Paul Fix, G.D. Spradlin, Bill Garaway
Directed by Michelangelo Antonioni
Produced by Carlo Ponti
Written by Sam Shepard, Michelangelo Antonioni, Clare Peploe, Fred Gardner, Tonino Guerra
Searching for Showtimes ...
Please specify your location using the form below
Write a review for Zabriskie Point