Yes Man Showtimes and Tickets
Read Movie Reviews about Yes Man Write a Movie Review for Yes Man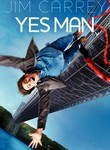 Release Date: 2008-12-19
Genre: Comedy,
Rating: PG-13
Duration: 1hr 44min
Synopsis...
Carl Allen's life is going nowhere--the operative word being "no"--until he signs up for a self-help program based on one simple covenant: say yes to everything--and anything. Unleashing the power of "YES" begins to transform Carl's life in amazing and unexpected ways, getting him promoted at work and opening the door to a new romance. But, his willingness to embrace every opportunity might just become too much of a good thing.
Cast and Crew
Starring
Jim Carrey, Terence Stamp, Zooey Deschanel, Bradley Cooper, Fionnula Flanagan, Sean O'Bryan, Maile Flanagan, E.J. Callahan, Guy Chapman, Spencer Garrett, Brent Briscoe, John Michael Higgins, Danny Masterson, Patrick Labyorteaux, Rocky Carroll, Sasha Alexander, Molly Sims, Jarrad Paul, Michael Papajohn, Rhys Darby, Danny Wallace, Brandon Walter
Directed by Peyton Reed
Produced by Jim Carrey, Richard D. Zanuck, David Heyman, Richard Zanuck
Written by Jarrad Paul, Nicholas Stoller, Andrew Mogel, Danny Wallace, David Iserson
Searching for Showtimes ...
Please specify your location using the form below
Write a review for Yes Man