X-Men Origins: Wolverine Showtimes and Tickets
Read Movie Reviews about X-Men Origins: Wolverine Write a Movie Review for X-Men Origins: Wolverine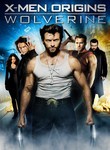 Synopsis...
The fierce fighting machine, Wolverine, possesses amazing healing powers, retractable claws and a primal fury. Leading up to the events of "X-Men," "X-Men Origins: Wolverine" tells the story of Wolverine's epically violent and romantic past, his complex relationship with Victor Creed, and the ominous Weapon X program. Along the way, Wolverine encounters many mutants, both familiar and new, including surprise appearances by several legends of the X-Men universe whose appearances in the film series have long been anticipated.
Cast and Crew
Starring
Patrick Stewart, Ryan Reynolds, Brian Cox, Danny Huston, Hugh Jackman, Liev Schreiber, Dominic Monaghan, Lynn Collins, Mike Dopud, Aaron Jeffery, Hakeem Kae-Kazim, Socratis Otto, Taylor Kitsch, Kevin Durand, Stephen Leeder, Max Cullen, Scott Adkins, Alice Parkinson, Tahyna Tozzi, Adelaide Clemens
Directed by Gavin Hood
Produced by Bryan Singer, Hugh Jackman, Lauren Shuler Donner, John Palermo, Ralph Winter, Avi Arad
Written by Stan Lee, David Benioff, Skip Woods
Searching for Showtimes ...
Please specify your location using the form below
Write a review for X-Men Origins: Wolverine