Wild Child Showtimes and Tickets
Read Movie Reviews about Wild Child Write a Movie Review for Wild Child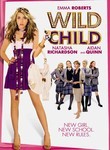 Release Date: Unknown
Genre: Comedy,
Rating: PG-13
Duration: 1hr 38min
Synopsis...
Sixteen-year-old Poppy is a self-obsessed, incorrigible brat who lives a pampered life in her L.A. world. Although she's handed credit cards with unlimited balances and surrounded by countless hangers on, Poppy can't escape the mounting frustration she feels with her family situation. And she makes sure that everyone knows it. After an over-the-top prank pushes her father one step too far, Poppy is shipped off to an English boarding school. Finding herself in a foreign world of early curfews, stern matrons and mandatory lacrosse, the American princess has finally met her match: a school of British girls who won't tolerate her spoiled ways. Under the watchful eye of the school's headmistress and surrounded by a new circle of friends, Poppy begrudgingly realizes her bad-girl behavior will only get her so far. But just because she must grow into a fine young lady doesn't mean this "wild child" won't be spending every waking hour shaking up a very proper system.
Cast and Crew
Starring
Aidan Quinn, Natasha Richardson, Shirley Henderson, Nick Frost, Emma Roberts, Vanessa Branch, Daisy Donovan, Alex Pettyfer, Johnny Pacar, Kimberley Nixon, Sonia Rockwell, Linzey Cocker, Georgia King, Juno Temple, Jason Watkins, Tommy Kijas, Kelsey Sanders, Sophie Wu
Directed by Nick Moore
Produced by Eric Fellner, Tim Bevan, Diana Phillips
Written by Daisy Donovan, Lucy Dahl, Kate Kondell
Searching for Showtimes ...
Please specify your location using the form below
Write a review for Wild Child