Who Do You Love Showtimes and Tickets
Read Movie Reviews about Who Do You Love Write a Movie Review for Who Do You Love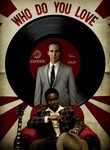 Release Date: 2010-04-09 (NY)
Genre: Drama,
Rating: NR
Duration: 1hr 30min
Synopsis...
Leonard Chess changed the face of modern music, and he did so without playing a note. A Jewish immigrant living in Chicago just as the city was exploding with new blues sounds, he heard what few others did at the time-- the universal passion in the music of performers like Etta James, Muddy Waters and Bo Diddley, who all rose to fame thanks to Chess. At first with a nightclub and then with his legendary record label..
Cast and Crew
Starring
Alessandro Nivola, Chi McBride, Jon Abrahams, Marcus Lyle Brown, Rus Blackwell, David Oyelowo, Brett Beoubay, Chris Burnett
Directed by Jerry Zaks
Produced by Les Alexander, Andrea Baynes, Jonathan Mitchell
Written by Peter Martin Wortmann, Robert Conte
Searching for Showtimes ...
Please specify your location using the form below
Write a review for Who Do You Love