What Happens in Vegas Showtimes and Tickets
Read Movie Reviews about What Happens in Vegas Write a Movie Review for What Happens in Vegas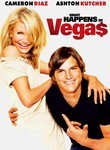 Release Date: 2008-05-03
Genre: Romance, Comedy
Rating: PG-13
Duration: 1hr 39min
Synopsis...
Set in Sin City, the story revolves around two people who discover they've gotten married following a night of debauchery, with one of them winning a huge jackpot after playing the other's quarter. The unhappy pair try to undermine each other and get their hands on the money--falling in love along the way.
Cast and Crew
Starring
Cameron Diaz, Dennis Miller, Queen Latifah, Treat Williams, Ashton Kutcher, Rob Corddry, Dennis Albanese, Lake Bell, Dennis Farina, Michelle Krusiec, Ben Best, Zach Galifianakis, Krysten Ritter, Bruce Perkins, Clem Cheung, Andrew Daly, Jason Sudeikis, Deirdre O'Connell
Directed by Tom Vaughan
Produced by Shawn Levy, Dean Georgaris, Michael Aguilar
Written by Dana Fox
Searching for Showtimes ...
Please specify your location using the form below
Write a review for What Happens in Vegas