Venus (2006) Showtimes and Tickets
Read Movie Reviews about Venus (2006) Write a Movie Review for Venus (2006)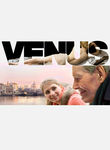 Dvd Release Date: 2007-05-22
Genre: Drama,
Rating: R
Duration: 1hr 35min
Synopsis...
"Venus" tells the story of Maurice and Ian, a pair of veteran actors whose comfortable daily routine is disrupted by the arrival of Ian's grand-niece, Jessie. Maurice takes the teenager under his wing, but is surprised to discover how very little he actually knows now that his own life is drawing to a close. The cast also includes Vanessa Redgrave and Richard Griffiths.
Cast and Crew
Starring
Vanessa Redgrave, Peter O'Toole, Jo Price, Richard Griffiths, Leslie Phillips, Jodie Whittaker, Andrea Riseborough, Sam Spruell, Cathryn Bradshaw, Harvey Virdi, Bronson Webb, Christine Bottomley, Benn Northover, Daniel Cerqueira
Directed by Roger Michell
Produced by Kevin Loader
Written by Hanif Kureishi
Searching for Showtimes ...
Please specify your location using the form below
Write a review for Venus (2006)