Valiant Showtimes and Tickets
Read Movie Reviews about Valiant Write a Movie Review for Valiant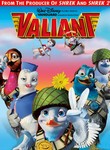 Dvd Release Date: 2005-12-13
Genre: Comedy, Family
Rating: G
Duration: 1hr 16min
Synopsis...
A wood pigeon named Valiant dreams of being a messenger homing pigeon for the Royal Air Force during WWII. Dreams become reality when Valiant signs up for Homing Pigeon Service. He ends up behind enemy lines before finishing his basic training with his colleagues, though, and when enemy falcons discover that Valiant is carrying secret British codes he has to prove he is up to the fight.
Cast and Crew
Starring
Tim Curry, Rupert Everett, John Cleese, Ewan McGregor, Ben Kingsley, John Hurt, Jim Broadbent, Hugh Laurie, Rik Mayall, Ricky Gervais, Olivia Williams, Annette Badland, Michael Jenn, Jonathan Ross
Directed by Gary Chapman
Produced by John H. Williams, John H Williams
Written by Matt Manfredi , Phil Hay, Jay Dubin, Paul Zaloom, George Webster, George Melrod
Searching for Showtimes ...
Please specify your location using the form below
Write a review for Valiant