Unknown (2006) Showtimes and Tickets
Read Movie Reviews about Unknown (2006) Write a Movie Review for Unknown (2006)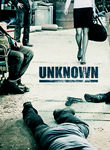 Synopsis...
Five men wake up in a chemical warehouse and realizing they don't know who they are and how they got there. But, through time they deduct that some of them are hostages and some are kidnappers. The men now must figure out who is who as they've learned the lead kidnapper is on his way and plans to kill the hostages.
Cast and Crew
Starring
Greg Kinnear, Joe Pantoliano, Jim Caviezel, Jeremy Sisto, James Caviezel, Barry Pepper, Bridget Moynahan, Peter Stormare, Adam Rodriguez, Wilmer Calderon, Victoria Justice, Jeff Daniel Phillips
Directed by Simon Brand
Produced by Darby Parker, Rick Lashbrook, John S Schwartz
Written by Matthew Waynee
Searching for Showtimes ...
Please specify your location using the form below
Write a review for Unknown (2006)