Traitor Showtimes and Tickets
Read Movie Reviews about Traitor Write a Movie Review for Traitor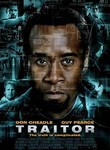 Release Date: 2008-08-27
Genre: Drama,
Rating: PG-13
Duration: 1hr 50min
Synopsis...
When straight arrow FBI agent Roy Clayton heads up the investigation into a dangerous international conspiracy, all clues seem to lead back to former U.S. Special Operations Officer, Samir Horn. A mysterious figure with a web of connections to suspect organizations, Horn has a knack for emerging on the scene just as a major operation goes down. The inter-agency task force looking into the case meets with Carter, a veteran CIA contractor who seemingly has his own agenda and Max Archer, a fellow FBI agent. The task force links Horn to a bombing in Nice and a raid in London, but a tangle of contradictory evidence emerges, forcing Clayton to question whether his quarry is a man without loyalties--or something far more complicated. Obsessed with discovering the truth, Clayton tracks Horn across the globe as the elusive ex-soldier burrows deeper and deeper into a world of shadows and intrigue.
Cast and Crew
Starring
Jeff Daniels, Guy Pearce, Saïd Taghmaoui, Don Cheadle, Simon Reynolds, Archie Panjabi, Aly Khan, Nick Alachiotis, Neal McDonough, Jonathan Walker, Lorena Gale, Matt Gordon, Scali Delpeyrat, Hassam Ghancy, Alyy Khan, Suzy Brack, Elias Zarou, Adeel Akhtar, Raad Rawi, Mohamed Choubi
Directed by Jeffrey Nachmanoff
Produced by Steve Martin, Don Cheadle, Ashok Amritraj, Todd Lieberman, Glynis Murray, Jeffrey Silver, David Hoberman
Written by Steve Martin, Jeffrey Silver, Jeffrey Nachmanoff
Searching for Showtimes ...
Please specify your location using the form below
Write a review for Traitor