Tokyo Story Showtimes and Tickets
Read Movie Reviews about Tokyo Story Write a Movie Review for Tokyo Story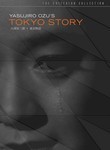 Release Date: 1972-03-13 (N/A)
Genre: Drama,
Rating: NR
Duration: 2hrs 14min
Synopsis...
'Tokyo Story' is a meditation on the generational gap and the trials of mortality. An elderly couple visits their children in a bustling Tokyo, where they are seen almost as a nuisance and shuffled off to a resort. Modernization is the torrent that tears through Japanese society, and this film takes a hard look at what it has done to the family unit.
Searching for Showtimes ...
Please specify your location using the form below
Write a review for Tokyo Story