Titan A.E. Showtimes and Tickets
Read Movie Reviews about Titan A.E. Write a Movie Review for Titan A.E.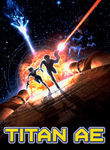 Dvd Release Date: 2000-11-07
Genre: SciFi/Fantasy,
Rating: PG
Duration: 1hr 35min
Synopsis...
In a journey that begins after Earth ends, a rebellious teenager named Cale embarks on an adventure through space to find a legendary spacecraft, the Titan, which holds the secret to salvation for the human race. With the deadly Drej aliens close behind and betrayal from within, Cale must become a renegade warrior and a new kind of hero as he completes his mission to find a whole new world.
Write a review for Titan A.E.