Titan A.E. Showtimes and Tickets
Read Movie Reviews about Titan A.E. Write a Movie Review for Titan A.E.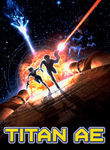 Dvd Release Date: 2000-11-07
Genre: SciFi/Fantasy,
Rating: PG
Duration: 1hr 35min
Synopsis...
In a journey that begins after Earth ends, a rebellious teenager named Cale embarks on an adventure through space to find a legendary spacecraft, the Titan, which holds the secret to salvation for the human race. With the deadly Drej aliens close behind and betrayal from within, Cale must become a renegade warrior and a new kind of hero as he completes his mission to find a whole new world.
Cast and Crew
Starring
Bill Pullman, Ron Perlman, Janeane Garofalo, John Leguizamo, Drew Barrymore, Matt Damon, Nathan Lane, Alex D. Linz, Hank Azaria, Jim Cummings, Tsai Chin
Directed by Gary Goldman, Don Bluth
Produced by Gary Goldman, Don Bluth, David Kirschner
Written by Joss Whedon , John August, Ben Edlund, Hans Bauer
Searching for Showtimes ...
Please specify your location using the form below
Write a review for Titan A.E.