This American Life Live! Showtimes and Tickets
Read Movie Reviews about This American Life Live! Write a Movie Review for This American Life Live!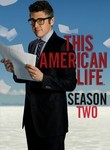 Release Date: 2009-04-23 (Limited)
Genre: Program,
Rating: NR
Duration: 2hrs 00min
Synopsis...
On Thursday, April 23, host Ira Glass will bring the wildly popular radio show This American Life to the big screen for a one-night only live event. This exclusive theatrical presentation will be broadcast LIVE via satellite in HD 5.1 audio to select movie theatres nationwide. Don't miss your chance to see "This American Life - Live!" on the big screen Thursday April 23, 2009 at 8 p.m. EDT / 7 p.m. CDT / 6 p.m. MDT and time delayed to 8 p.m. PDT (also 8 p.m. in Arizona and 7 p.m. in Hawaii).
Searching for Showtimes ...
Please specify your location using the form below
Write a review for This American Life Live!