Things We Lost in the Fire Showtimes and Tickets
Read Movie Reviews about Things We Lost in the Fire Write a Movie Review for Things We Lost in the Fire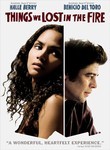 Dvd Release Date: 2008-03-04
Genre: Drama,
Rating: R
Duration: 1hr 59min
Synopsis...
When Audrey Burke loses her husband in an act of random violence, she forges an unlikely relationship with Jerry Sunborne, her husband's best friend from childhood. Jerry is a heroin user; his addiction has destroyed everything that was once important to him. As Audrey discovers that Jerry is the only person who can help her survive her loss, Jerry finds the strength to overcome his own problems.
Cast and Crew
Starring
Halle Berry, David Duchovny, Omar Benson Miller, John Carroll Lynch, Alison Lohman, Benicio Del Toro, Quinn Lord, Robin Weigert, Lorena Gale, Kendall Cross, Maggie Ma, Maureen Thomas
Directed by Susanne Bier
Produced by Sam Mendes, Sam Mercer
Written by Allan Loeb
Searching for Showtimes ...
Please specify your location using the form below
Write a review for Things We Lost in the Fire