Then She Found Me Showtimes and Tickets
Read Movie Reviews about Then She Found Me Write a Movie Review for Then She Found Me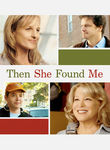 Dvd Release Date: 2008-09-02
Genre: Comedy, Drama
Rating: R
Duration: 1hr 40min
Synopsis...
Following the separation from her husband and the death of her adopted mother, schoolteacher April Epner is contacted by her apparent birth mother, who turns out to be a local talk show host Bernice Graves. As Bernice tries to become the mother to April that she was never able to be, April seems to find solace in the arms of the parent of one of her students (Colin Firth), only to find that the mystery to life's questions cannot be solved by a simple revelation.
Cast and Crew
Starring
Helen Hunt, Matthew Broderick, Bette Midler, Ben Shenkman, Colin Firth, John Benjamin Hickey, Lynn Cohen, Salman Rushdie, Cherise Boothe, Geneva Carr
Directed by Helen Hunt
Produced by Helen Hunt, Pamela Koffler, Christine Vachon, Connie Tavel, Katie Roumel
Written by Helen Hunt, Victor Levin, Alice Arlen
Searching for Showtimes ...
Please specify your location using the form below
Write a review for Then She Found Me