Tenacious D in the Pick of Destiny Showtimes and Tickets
Read Movie Reviews about Tenacious D in the Pick of Destiny Write a Movie Review for Tenacious D in the Pick of Destiny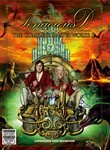 Dvd Release Date: 2007-02-27
Genre: Comedy, Comedy
Rating: R
Duration: 1hr 40min
Synopsis...
When wannabe rocker JB stumbles into classic guitarist KG along California's Venice boardwalk, the two form a friendship and their own band. Being in desperate financial straits, the dual determine that the key to success is a peculiar guitar pick used by all the great rockers featured on the covers of "The Rolling Stone." When they show the cover photos of the pick to the manager of The Guitar Center, the ex-guitar tech turned rock historian tells them the history of The Pick of Destiny--the darkest secret in the history of rock. The Pick, he informs them, now resides in the Rock and Roll History Museum--an impenetrable fortress.
Cast and Crew
Starring
John C. Reilly, Ben Stiller, Tim Robbins, Colin Hanks, Jack Black, Amy Adams, Amy Poehler, David Koechner, Meat Loaf, Kyle Gass, Jason Reed, Ronnie James Dio, Troy Gentile, Dave Grohl
Directed by Liam Lynch
Produced by Ben Stiller, Jack Black, Stuart Cornfeld, Kyle Gass
Written by Jack Black, Bob Odenkirk, Kyle Gass, Liam Lynch
Searching for Showtimes ...
Please specify your location using the form below
Write a review for Tenacious D in the Pick of Destiny