Telstar Showtimes and Tickets
Read Movie Reviews about Telstar Write a Movie Review for Telstar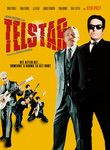 Release Date: Unknown
Genre: Drama,
Rating: NR
Duration: 1hr 54min
Synopsis...
British songwriter and record producer Joe Meek was openly gay in a time when homosexuality remained outlawed. Tone deaf, drug addicted, paranoid and obsessed with black magic, Meek was responsible for a string of 1960s chart-toppers including "Have I the Right," "Just Like Eddie," "Johnny, Remember Me" and the groundbreaking "Telstar."
Cast and Crew
Starring
Kevin Spacey, Rita Tushingham, JJ Feild, John Leyton, Jess Conrad, Shaun Evans, Jimmy Carr, James Corden, Justin Hawkins, Pam Ferris, Tom Burke, Clem Cattini, Michael Sarne, Jon Ivay, Con O'Neill, Jim Field Smith, Mathew Baynton, Ralf Little
Directed by Nick Moran
Produced by Adam Bohling, David Reid, Simon Jordan
Written by James Hicks, Nick Moran
Searching for Showtimes ...
Please specify your location using the form below
Write a review for Telstar