Take Showtimes and Tickets
Read Movie Reviews about Take Write a Movie Review for Take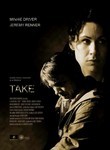 Synopsis...
Ana is a mother--desperate to save her marriage and keep from losing her son to a world where he doesn't belong. Saul is a gambling addict--out a job, out of money, and out of time to pay his debts. In an instant, these unlikely strangers' lives collide in unspeakable tragedy. Years later, Ana finds herself driving through the desert to witness Saul's execution, while Saul waits out his final hours. As the two are once again brought together, they are caught in the memory of the fateful day when their lives first became permanently intertwined.
Cast and Crew
Starring
Minnie Driver, Louis Mandylor, Jeremy Renner, Bobby Coleman, Griff Furst, Courtenay Taylor, Jessica Stier, Emily Harrison, David Denman, Bill McKinney, Rocky Marquette, Adam Rodriguez
Directed by Charles Oliver
Produced by Tyler Measom, Chet Thomas
Written by Charles Oliver
Searching for Showtimes ...
Please specify your location using the form below