Take the Lead Showtimes and Tickets
Read Movie Reviews about Take the Lead Write a Movie Review for Take the Lead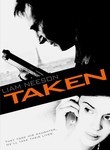 Dvd Release Date: 2006-08-29
Genre: Drama, Musical
Rating: PG-13
Duration: 1hr 57min
Synopsis...
Inspired by a true story, Antonio Banderas stars as internationally acclaimed ballroom dancer Pierre Dulane. The film revolves around a professional dancer who volunteers to teach in the New York City public school system. But when his classic methods clash with his students' hip hop instincts, he teams up with them to create a new style of dance and becomes their mentor in the process. "Take the Lead" co-stars Alfre Woodard and marks the feature directing debut of veteran music video helmer Liz Friedlander.
Cast and Crew
Starring
Antonio Banderas, Alfre Woodard, Dante Basco, Jenna Dewan, Rob Brown, Lauren Collins, Yaya DaCosta, Elijah Kelley, Jasika Nicole, Marcus T. Paulk
Directed by Liz Friedlander
Produced by Diane Nabatoff, Michelle Grace, Christopher Godsick
Written by Dianne Houston
Searching for Showtimes ...
Please specify your location using the form below
Write a review for Take the Lead