Sydney White Showtimes and Tickets
Read Movie Reviews about Sydney White Write a Movie Review for Sydney White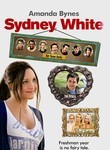 Dvd Release Date: 2008-01-22
Genre: Comedy,
Rating: PG-13
Duration: 1hr 40min
Synopsis...
Gorgeous freshman Sydney White has come to Southern Atlantic University to pledge her late mom's once-dignified sorority. But while surviving the pledging process wrought by evil campus witch Rachel, Syd finds out this version of sisterhood isn't remotely what it's cracked up to be. Banished to a condemned house on Greek Row, Syd finds her rightful place with a band of seven very socially challenged guys. With the help of one lovestruck frat boy named Tyler, she and the doofs campaign to take over student government. Fighting for the rights of misfits big and small, Syd organizes her gang to revolutionize the system, once and for all.
Cast and Crew
Starring
Amanda Bynes, Sara Paxton, John Schneider, Matt Long, Jeremy Howard, Jeff Chase, Jack Carpenter, Samm Levine, Ashley Eckstein, Nathena Lewis, Adam Lopez, Micaela Johnson, Cynthia Murell
Directed by Joe Nussbaum
Produced by Clifford Werber, Guy McElwaine
Written by Chad Creasey
Searching for Showtimes ...
Please specify your location using the form below
Write a review for Sydney White