Super Capers Showtimes and Tickets
Read Movie Reviews about Super Capers Write a Movie Review for Super Capers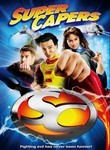 Release Date: 2009-03-20 (Limited)
Genre: Action/Adventure,
Rating: PG
Duration: 1hr 30min
Synopsis...
Ed Gruberman, a normal guy with superhero aspirations, is sued for superhero brutality and ordered by a judge to join a team of heroes-in-training. The Super Capers, a misfit group including the semi-capable likes of Felicia Freeze, Will Powers, Herman Brainard and Puffer Boy. In his first mission with the team, Ed and the Capers must stop an armored car heist and prevent Super-Villians from getting away with the gold. The Super Capers end up saving the day, or so they seem, when mysterious forces frame Ed for the heist. Ed confronts the criminal mastermind behind the plot, and learns a disturbing secret about his parents. Ed must travel back in time to confront his past if he is to save the team and expose the true villain!
Cast and Crew
Starring
June Lockhart, Adam West, Michael Rooker, Justin Whalin, Steve Braun, Tom Sizemore, Chris Owen, Danielle Harris, Jon Polito, Clint Howard, Christine Lakin, Tommy 'Tiny' Lister, Doug Jones, Ray Griggs
Directed by Ray Griggs
Produced by Ray Griggs
Written by Ray Griggs
Searching for Showtimes ...
Please specify your location using the form below
Write a review for Super Capers