Sugar (2008) Showtimes and Tickets
Read Movie Reviews about Sugar (2008) Write a Movie Review for Sugar (2008)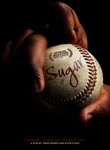 Dvd Release Date: 2009-09-01
Genre: Drama,
Rating: R
Duration: 1hr 54min
Synopsis...
"Sugar" follows the story of Miguel Santos, a.k.a. Sugar, a Dominican pitcher from San Pedro De Macorís, struggling to make it to the big leagues and pull himself and his family out of poverty. Playing professionally at a baseball academy in the Dominican Republic, Miguel finally gets his break at age 19 when he advances to the United States' minor league system; but when his play on the mound falters, he begins to question the single-mindedness of his life's ambition. Blending the genres of sports drama, immigrant journey, and coming-of-age story, "Sugar" is a unique film about self-discovery.
Cast and Crew
Starring
Brendan Fehr, Sarah Polley, Richard Bull, Michael Gaston, Jaime Tirelli, Karl Bury, Ellary Porterfield
Directed by Ryan Fleck, Anna Boden
Produced by Paul S Mezey, Jamie Patricof, Jeremy Kipp Walker
Written by Ryan Fleck, Anna Boden
Searching for Showtimes ...
Please specify your location using the form below
Write a review for Sugar (2008)