Street Fighter: The Legend of Chun-Li Showtimes and Tickets
Read Movie Reviews about Street Fighter: The Legend of Chun-Li Write a Movie Review for Street Fighter: The Legend of Chun-Li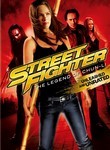 Synopsis...
On the streets of Bangkok, crime boss Bison instigates a wave of violence in the slum districts, grabbing power and land no matter what the costs to its residents. His ruthless tactics are met by a team of heroes consisting of Chun-Li, a half-Caucasian/half-Asian beauty who gave up a life of privilege to become a street fighter, battling for those who cannot fight for themselves; her kung fu master, Gen, once a feared criminal, who now fights for the forces of good; Interpol cop Charlie Nash, who has tracked the crime boss all over the world, and Nash's partner, gangland homicide detective Maya Sunee.
Cast and Crew
Starring
Chris Klein, Robin Shou, Edmund Chen, Michael Clarke Duncan, Neal McDonough, Kristin Kreuk, Moon Bloodgood, Josie Ho, Erik Markus Schuetz, Brendan Miller, Cheng Pei-Pei, Sahajak Boonthanakit
Directed by Andrzej Bartkowiak
Produced by Patrick Aiello, Ashok Amritraj
Written by Justin Marks
Searching for Showtimes ...
Please specify your location using the form below
Write a review for Street Fighter: The Legend of Chun-Li