Strangers Showtimes and Tickets
Read Movie Reviews about Strangers Write a Movie Review for Strangers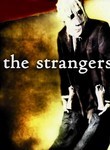 Synopsis...
The horrifying events that took place in the Hoyt family's vacation home at 1801 Clark Road on Feb. 11, 2005, are still not entirely known. Champagne. Rose petals. Candlelight. It was supposed to be a night of celebration for Kristen McKay and James Hoyt. But, after leaving a friend's wedding reception and returning to the house, everything had collapsed for the happy couple. Then came a 4 a.m. knock on the door and a haunting voice. "Is Tamara here?" "The Strangers" is a terrifying suspense thriller about a couple whose remote getaway becomes a place of terror when masked strangers invade. The confrontation forces Kristen and James to go far beyond what they think themselves capable of if they hope to survive.
Cast and Crew
Starring
Liv Tyler, Nandana Sen, Lubna Azabal, Sonali Kulkarni, Kay Kay Menon, Jimmy Shergill, Scott Speedman, Kitu Gidwani, Kip Weeks, Gemma Ward, Glenn Howerton, Laura Margolis
Directed by Bryan Bertino
Produced by Doug Davison, Roy Lee, Nathan Kahan
Written by Bryan Bertino, Himanshu Sharma
Searching for Showtimes ...
Please specify your location using the form below
Write a review for Strangers