State and Main Showtimes and Tickets
Read Movie Reviews about State and Main Write a Movie Review for State and Main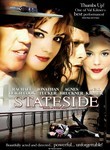 Dvd Release Date: 2001-06-19
Genre: Comedy,
Rating: R
Duration: 1hr 45min
Synopsis...
Walter Price is directing a movie that has gone over budget. Having been kicked out of his New Hampshire filming location, Price must quickly find a new, low budget location that can quickly pass as a 19th Century village. He soon comes across the quaint town of Waterford, Vermont. According to the brochure the town is equipped with a firehouse, a mill and a population eager for the glitter of Hollywood - Price thinks he has it made. However, he soon finds out that the mill, a crucial piece in the film, was destroyed several years ago in a fire. This is the first in a series of mishaps, including a star who prefers young girls and a suspicious car crash, that threaten to shut the film down.
Cast and Crew
Starring
Alec Baldwin, William H. Macy, Julia Stiles, Charles Durning, Philip Seymour Hoffman, David Paymer, Sarah Jessica Parker, Patti Lupone, Clark Gregg, Rebecca Pidgeon, Ricky Jay, John Krasinski, Vincent Guastaferro, Lionel Mark Smith, Tony Mamet
Directed by David Mamet
Produced by Sarah Green, Maggi Renzi
Written by David Mamet
Searching for Showtimes ...
Please specify your location using the form below
Write a review for State and Main