Spinning Into Butter Showtimes and Tickets
Read Movie Reviews about Spinning Into Butter Write a Movie Review for Spinning Into Butter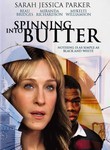 Release Date: 2009-03-27 (Limited)
Genre: Drama,
Rating: R
Duration: 1hr 26min
Synopsis...
A vicious hate crime at an elite New England college thrusts the new dean of students into the investigation. When charged with maintaining order on campus, she is forced to examine her own feelings about race. Based on the critically acclaimed play, "Spinning into Butter" is a compelling movie that examines the emotional fallout of prejudice within the cloistered walls of academia.
Cast and Crew
Starring
Miranda Richardson, Beau Bridges, Sarah Jessica Parker, Margaret Baker, James Rebhorn, Mykelti Williamson, Betsy Beutler, Philip Adkins, Maggie Moore
Directed by Mark Brokaw
Produced by Sarah Jessica Parker, Ryan Howe
Written by Doug Atchison, Rebecca Gilman
Searching for Showtimes ...
Please specify your location using the form below
Write a review for Spinning Into Butter