Space Chimps Showtimes and Tickets
Read Movie Reviews about Space Chimps Write a Movie Review for Space Chimps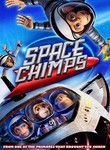 Synopsis...
When a $5 billion Space Agency probe disappears into an intergalactic wormhole, the agency recruits Ham III, grandson of the first chimpanzee in space, to help retrieve the wayward craft. But Ham is a free-spirited circus performer more interested in zero gravity high jinks than living up to his illustrious heritage. The simian slacker becomes a reluctant hero and learns the true meaning of courage as he and his crewmates, the plucky Lieutenant Luna and their by-the-book commander, Titan, risk everything in an effort to save the peaceful inhabitants of a distant planet from an evil dictator.
Cast and Crew
Starring
Stanley Tucci, Jeff Daniels, Kenan Thompson, Patrick Warburton, Seann William Scott, Andy Samberg, Kristin Chenoweth, Zack Shada, Jane Lynch, Kath Soucie, Cheryl Hines, Omid Abtahi, Carlos Alazraqui, Patrick Breen
Directed by Kirk Demicco, Norton Virgien
Produced by Barry Sonnenfeld, John H. Williams
Written by Simon Goltsman, Kirk De Micco, David Goetsch, Jason Venokur, Ross Venokur
Searching for Showtimes ...
Please specify your location using the form below
Write a review for Space Chimps