Smother Showtimes and Tickets
Read Movie Reviews about Smother Write a Movie Review for Smother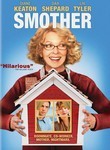 Dvd Release Date: 2009-05-09
Genre: Comedy, Drama
Rating: PG-13
Duration: 1hr 37min
Synopsis...
Marilyn Cooper is one of those moms--the kind that calls at 6:30 in the morning, the kind the pops over for a "visit" whenever she feels like it, and one night, the kind that shows up at her son Noah's house crying, with her bags and five foster dogs in tow. Convinced her husband is having an affair, she's decided to move out, and when Noah's wife Claire invites her in she accepts--and stays. And stays. And stays. Now, with a mother he's always kept at a distance just one room away, slowly infiltrating the rest of his life, Noah starts to realize if he wants some respite, he's going to have to fight for it.
Cast and Crew
Starring
Liv Tyler, Diane Keaton, Mike White, Dax Shepard, Ken Howard, Selma Stern, Don Lake, Cameron Bender, Jerry Lambert
Directed by Vince Di Meglio
Produced by Jay Roach, Matt Berenson
Written by Tim Rasmussen, Vince Di Meglio
Searching for Showtimes ...
Please specify your location using the form below
Write a review for Smother