Short Kut - The Con Is On (2009 II) Showtimes and Tickets
Read Movie Reviews about Short Kut - The Con Is On (2009 II) Write a Movie Review for Short Kut - The Con Is On (2009 II)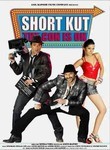 Release Date: 2009-07-10 (Limited)
Genre: Comedy,
Rating: NR
Duration: 2hrs 15min
Synopsis...
"Shortkut" is a young and heart-warming slice-of-life comedy about the trials and tribulations of the two con artists as they face some truly zany situations in the pursuit of their tinsel town dreams. Set in the thick of the buzzing Bollywood industry, the film is about two strugglers, Chandu and Shekhar, one who makes it big as a superstar after stealing a movie script, and the other, whose struggle as a director continues after his script gets stolen! Destiny again brings the two face to face when Shekhar is set to direct his first film with Chandu. A fight of egos ensues, and what happens next as the real-life drama of the reel unfolds, is the crux of the plot.
Cast and Crew
Starring
Anil Kapoor, Akshaye Khanna, Sanjay Dutt, Amrita Rao, Arshad Warsi, Siddharth Randeria, Chunky Pandey, Mushtaq Khan, Tiku Talsania, Neeraj Vora, Abbas Burmawalla, Mustan Burmawalla, Simi Garewal, Akshaye Khana, Arshad Waris, Kishore Anand Bhanushali, Ali Asgar
Directed by Neeraj Vora, Neeraj Vohra
Produced by Anil Kapoor, Sanjay Dutt, Sunil Manchanda
Written by Neeraj Vora
Searching for Showtimes ...
Please specify your location using the form below
Write a review for Short Kut - The Con Is On (2009 II)