Shadow Warrior (Kagemusha) Showtimes and Tickets
Read Movie Reviews about Shadow Warrior (Kagemusha) Write a Movie Review for Shadow Warrior (Kagemusha)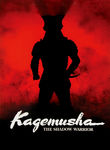 Release Date: Unknown
Genre: Drama, War
Rating: NR
Duration: 3hrs 00min
Synopsis...
Tatsuya Nakadai (Takeda Kagemusha), Tsutomu Yamazaki (Katsuyori), Kenichi Hagiwara (Son), Kota Yui (Takemaru), Hideji Otaki (Yamagata), Hideo Murata (Baba), Daisuke Ryu (Oda), Kaori Momoi (Otsuyanokata). After a long period of inactivity, Akira Kurosawa returned to the genre of which he is the unequivocal master, the samurai film, with KAGEMUSHA. Tatsuya Nakadai plays a 16th-century warlord, Shingen Takeda, who uses doubles for himself on the battlefield, instilling confidence and fear through his constant presence while his clan fights to establish dominance in Japan. When he is killed, his cur¬rent "shadow warrior," or kagemusha—in actuality a petty thief (again powerfully played by Tatsuya Nakadai)—must take over so that the army's morale will not die. Trained in secret by Shingen's assistants, the man genuinely begins to acquire some of his master's attributes, but is eventually exposed as a fake and banished from court. In the final, climactic battle, however, the deposed kagemusha is unable to restrain himself and grabs the clan's standard, rushing into the fray. Kurosawa's epic is alive with color, the spectacular visuals overlying a somber exploration of tradi¬tionalism, loyalty, and identity, played out against a tapes¬try of political intrigue and the 16th-century clan warfare that came to an end with the Tokugawa shogunate. The KAMERADSCHAFT- massive battle scenes rank with the director's best, using brilliant color and contrasts of light amidst the enormous cast with great style. Made and distributed with the finan¬cial aid and clout of George Lucas and Francis Ford Coppola, KAGEMUSHA prefigured and paved the way for the great RAN (1985), Kurosawa's epic adaptation of "King Lear." (In Japanese; with English subtitles.) p, Akira Kurosawa and Masato Ide; d, Akira Kurosawa; w, Akira Kurosawa and Masato Ide; ph, Takao Saito, Shoji Ueda, Kazuo Miyagawa, and Asaichi Nakai, Eastmancolor; m, Shinichiro Ikebe
Cast and Crew
Starring
Tatsuya Nakadai, Tsutomu Yamazaki, Kaori Momoi, Kenichi Hagiwara, Mitsuko Baisho, Hideo Murota, Daisuke Ryu, Masayuki Yui, Jinpachi Nezu, Hideji Otaki
Directed by Akira Kurosawa
Produced by Francis Ford Coppola, Tomoyuki Tanaka, George Lucas, Akira Kurosawa
Written by Akira Kurosawa, Masato Ide
Searching for Showtimes ...
Please specify your location using the form below
Write a review for Shadow Warrior (Kagemusha)