Save the Last Dance Showtimes and Tickets
Read Movie Reviews about Save the Last Dance Write a Movie Review for Save the Last Dance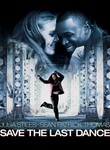 Dvd Release Date: 2001-06-19
Genre: Romance,
Rating: PG-13
Duration: 2hrs 00min
Synopsis...
A 17-year-old high-school student sets her sights on being a professional ballerina, but she has to put her plans on hold when her mother is killed in a car accident and she is forced to move to her father's bleak Chicago neighborhood. Intimidated by inner-city life, she turns to the clubs for refuge, where she meets a young black man who shares her love for dancing. As their mutual respect evolves, they soon discover that peer pressure is a more formidable obstacle to romance than differences in race or class.
Cast and Crew
Starring
Julia Stiles, Kerry Washington, Sean Patrick Thomas, Garland Whitt, Fredro Starr, Terry Kinney, Milauna Jemai, Bianca Lawson, Safia Jalila, Michael Levine
Directed by Thomas Carter
Produced by David Madden, Robert W Cort
Written by Duane Adler, Cheryl Edwards, Tori Ann Johnson
Searching for Showtimes ...
Please specify your location using the form below
Write a review for Save the Last Dance