Salaam-e-Ishq Showtimes and Tickets
Read Movie Reviews about Salaam-e-Ishq Write a Movie Review for Salaam-e-Ishq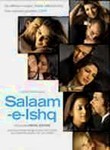 Release Date: 2007-01-25
Genre: Romance,
Rating: NR
Duration: 3hrs 20min
Synopsis...
"Salaam-e-ishq" is the story of six groups of people. They are from different parts of the world and from different walks of life. They are ignorant about each other's existence, but they end up being brought together by destiny, fate and love.
Searching for Showtimes ...
Please specify your location using the form below
Write a review for Salaam-e-Ishq