Righteous Kill Showtimes and Tickets
Read Movie Reviews about Righteous Kill Write a Movie Review for Righteous Kill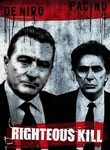 Release Date: 2008-09-12
Genre: Drama,
Rating: R
Duration: 1hr 41min
Synopsis...
After 30 years as partners in the pressure cooker environment of the NYPD, highly decorated detectives David Fisk and Thomas Cowan should be ready for retirement, but aren't. Before they can hang up their badges, they are called in to investigate the murder of a notorious pimp, which appears to have ties to a case they solved years before. Like the original murder, the victim is a suspected criminal whose body is found accompanied by a four line poem justifying the killing. When additional crimes take place, it becomes clear the detectives are looking for a serial killer, one who targets criminals that have fallen through the cracks of the judicial system. His mission is to do what the cops can't do on their own-take the culprits off the streets for good. The similarities between the recent killings and their earlier case raise a nagging question: Did they put the wrong man behind bars?
Cast and Crew
Starring
Al Pacino, Robert De Niro, Robert DeNiro, Dan Futterman, John Leguizamo, Frank John Hughes, Donnie Wahlberg, Malachy McCourt, Melissa Leo, 50 Cent, Brian Dennehy, Carla Gugino, Bryan Chatlien, Alan Rosenberg, Adrian Martinez, Franco Bulaon, Oleg Taktarov, Curtis "50 Cent" Jackson, Barry Primus, Merritt Wever, Saidah Arrika Ekulona, Edrick Browne, Rob Dyrdek, Terry Serpico
Directed by Jon Avnet
Produced by Boaz Davidson, Daniel Rosenberg, Jon Avnet, Randall Emmett, Rob Cowan, Alexandra Milchan, Avi Lerner, Lati Grobman
Written by Russell Gewirtz
Searching for Showtimes ...
Please specify your location using the form below
Write a review for Righteous Kill