Return to Never Land Showtimes and Tickets
Read Movie Reviews about Return to Never Land Write a Movie Review for Return to Never Land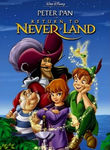 Dvd Release Date: 2002-08-20
Genre: Family,
Rating: G
Duration: 1hr 12min
Synopsis...
Set many years after the original story, in London, during the WWII air raids, a follow-up to the original "Peter Pan" tale... Now Wendy is all grown up with children of her own, as the Blitzkrieg rages, she calms them with tales of Peter Pan, the boy who refused to grow up. Wendy's stubborn 12-year-old daughter, Jane, has no patience for such nonsense... until Captain Hook himself uses the girl as a pawn in capturing his archrival. Peter Pan, Tinker Bell and the Lost Boys come to her aid; however, even they cannot make Jane a believer in the magic of imagination. Unless she believes, she cannot fly, and there is no other way for her to return home. Worse, without Jane's belief in fairies, Tinker Bell cannot survive. As the pixie slowly begins to fade, Peter strives to find a way to rescue the girl from the dangerous clutches of Captain Hook and show her that with faith, trust and pixie dust, anything is possible.
Cast and Crew
Starring
Frank Welker, Jim Cummings, Jeff Bennett, Dan Castellaneta, Corey Burton, Rob Paulsen, Spencer Breslin, Harriet Owen, Kath Soucie, Lawrence Watson, Blayne Weaver
Directed by Robin Budd, Ian Harrowell
Produced by Cheryl Abood, Christopher Chase
Written by Walt Disney, Temple Mathews, Carter Crocker
Searching for Showtimes ...
Please specify your location using the form below
Write a review for Return to Never Land