Repulsion (1965) Showtimes and Tickets
Read Movie Reviews about Repulsion (1965) Write a Movie Review for Repulsion (1965)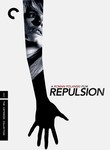 Release Date: 1965-10-02 (NY)
Genre: Suspense/Thriller,
Rating: NR
Duration: 1hr 44min
Synopsis...
When Carol, a shy young Belgian, is left alone for a few days in the Kensington flat she shares with her sister, she begins to withdraw into a reclusive existence where innocuous everyday realities are distorted by deep-seated anxieties. On screen throughout the film, Deneuve gives a wondrously subtle performance as the increasingly catatonic girl, but equally expressive of her terrifying inner torment are the sometimes surreal but never over-emphatic visual and aural effects created by Polanski to accompany her wanderings around the empty apartment or the bustling streets of South Kensington.
Searching for Showtimes ...
Please specify your location using the form below
Write a review for Repulsion (1965)