Reef (Shark Bait) Showtimes and Tickets
Read Movie Reviews about Reef (Shark Bait) Write a Movie Review for Reef (Shark Bait)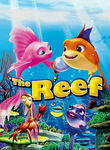 Release Date: Unknown
Genre: Animation,
Rating: G
Duration: 1hr 17min
Synopsis...
After Pi, an ordinary little fish from Boston, is orphaned when his parents are snared by a fisherman's net, he travels to an exotic reef to live with his Aunt Pearl. As he tries to orient himself in this new world, Pi meets the fish of his dreams, the beautiful and kind Cordelia, but things do not go swimmingly. Troy, the meanest shark in the ocean, is not only tormenting everyone in the reef community, but also has his eye on Cordelia. However, the sweet and well-meaning Pi makes some good friends in his new home and they decide to band together to stop the bullying. Our fishy leading man even gets some strategy tips from Nerissa, a wise old turtle who also yearns for peace on the reef. If Pi can get an advantage over the fearsome Troy and defeat this local tyrant, there may even be a chance he can win Cordelia's heart.
Cast and Crew
Starring
Rob Schneider, Donal Logue, Evan Rachel Wood, Andy Dick, Gary Clark Jr.
Directed by Howard E Baker, John Fox
Produced by Ash R Shah, Mark AZ Dippé, Young-ki Lee
Written by Chris Denk, Anurag Mehta, Timothy Wayne Peternel, Scott Clevenger
Searching for Showtimes ...
Please specify your location using the form below
Write a review for Reef (Shark Bait)