Red Baron (Der rote Baron) Showtimes and Tickets
Read Movie Reviews about Red Baron (Der rote Baron) Write a Movie Review for Red Baron (Der rote Baron)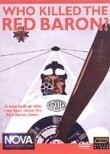 Release Date: 2010-03-19
Genre: Action/Adventure,
Rating: PG-13
Duration: 1hr 46min
Synopsis...
Baron Manfred von Richthofen is the crack pilot of the German aerial combat forces -- a legend in his own time, a hero at home and a man both feared and respected by the enemy. The provocative red paint job of his Fokker aircraft earns him the nickname 'The Red Baron'. Unwittingly, he allows the German high command to manipulate his chivalrous code of honor and misuse him for propaganda purposes until a beautiful and resolute nurse opens his eyes to the tragic fact that there is more to war than dogfights won and adversaries downed. Baron von Richthofen finally becomes aware of his role in the propaganda machine of a senseless and barbarous war.
Searching for Showtimes ...
Please specify your location using the form below
Write a review for Red Baron (Der rote Baron)