Race to Witch Mountain Showtimes and Tickets
Read Movie Reviews about Race to Witch Mountain Write a Movie Review for Race to Witch Mountain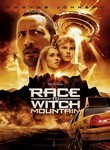 Synopsis...
For years, stories have circulated about a secret place in the middle of the Nevada desert, known for unexplained phenomena and strange sightings. It's called Witch Mountain, and when a Las Vegas cab driver finds two teens with supernatural powers in his cab, he suddenly finds himself in the middle of an adventure he can't explain. They work together to discover that the only chance to save the world lies in unraveling the secrets of Witch Mountain, and the race begins.
Cast and Crew
Starring
Cheech Marin, Tom Everett Scott, Kevin Christy, Ciarán Hinds, Dwayne Johnson, Jonathan Slavin, Chris Marquette, Carla Gugino, Ted Hartley, AnnaSophia Robb, Suzanne Krull, Christine Lakin, Garry Marshall, Kim Richards, Beth Kennedy, Ike Eisenmann, Andrew Shaifer, Alexander Ludwig, David Cohen, Meredith Salenger, Whitley Strieber, Tom Woodruff Jr.
Directed by Andy Fickman
Produced by Andrew Gunn
Written by Andy Fickman, Matt Lopez, Mark Bomback, Lloyd Taylor and Matt Lopez, Lloyd Taylor
Searching for Showtimes ...
Please specify your location using the form below
Write a review for Race to Witch Mountain