Quarantine Showtimes and Tickets
Read Movie Reviews about Quarantine Write a Movie Review for Quarantine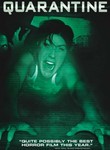 Synopsis...
Television reporter Angela Vidal and her cameraman are assigned to spend the night shift with a Los Angeles Fire Station. After a routine 911 call takes them to a small apartment building, they find police officers already on the scene in response to blood curdling screams coming from one of the apartment units. They soon learn that a woman living in the building has been infected by something unknown. After a few of the residents are viciously attacked, they try to escape with the news crew in tow, only to find that the CDC has quarantined the building. Phones, internet, televisions and cell phone access have been cut-off, and officials are not relaying information to those locked inside. When the quarantine is finally lifted, the only evidence of what took place is the news crew's videotape.
Cast and Crew
Starring
Rade Serbedzija, Jay Hernandez, Johnathon Schaech, Jeannie Epper, Greg Germann, Columbus Short, Dania Ramirez, Doug Jones, Craig Susser, Marin Hinkle, Denis O'Hare, Jennifer Carpenter, Andrew Fiscella, Joey King, Benjamin Stockham
Directed by John Erick Dowdle
Produced by Doug Davison, Anne Clements, Sergio Aguero
Written by John Erick Dowdle, Drew Dowdle
Searching for Showtimes ...
Please specify your location using the form below
Write a review for Quarantine