Pygmalion (1938) Showtimes and Tickets
Read Movie Reviews about Pygmalion (1938) Write a Movie Review for Pygmalion (1938)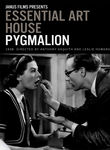 Release Date: 1938-01-01
Genre: Comedy, Romance
Rating: NR
Duration: 1hr 35min
Synopsis...
The snobbish and intellectual professor of languages, Henry Higgins, makes a bet with his friend that he can take a London flower seller, Eliza Doolittle, from the gutters and pass her off as a society lady. However, he discovers that this involves dealing with a human being with ideas of her own.
Cast and Crew
Starring
Wendy Hiller, Lelsie Howard, Leslie Howard, Jean Cadell, David Tree, Leueen MacGrath, Marie Lohr, Esme Percy
Directed by Leslie Howard, Anthony Asquith
Produced by Gabriel Pascal
Written by Kay Walsh, George Bernard Shaw, Anatole de Grunwald
Searching for Showtimes ...
Please specify your location using the form below
Write a review for Pygmalion (1938)