Pride and Glory Showtimes and Tickets
Read Movie Reviews about Pride and Glory Write a Movie Review for Pride and Glory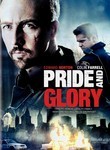 Release Date: 2008-10-24 (Nationwide)
Genre: Drama, Family
Rating: R
Duration: 2hrs 05min
Synopsis...
Four New York City cops are dead, killed in an ambush that has the entire police department on alert and on edge. With a cop killer on the loose and so much riding on the case, Chief of Manhattan Detectives Francis Tierney Sr. asks his son, Detective Ray Tierney, to lead the investigation. Reluctantly Ray takes over the case knowing the cops who were lost had served under his brother, Francis Tierney Jr., and alongside his brother-in-law, Jimmy Egan. On the surface, it looked like a routine drug bust gone terribly, tragically wrong. But as Ray delves deeper into the case, he realizes someone had to have tipped off the drug dealers that the cops were coming. Someone on the inside. Worse, the evidence starts to point in an unthinkable direction: to his own brother and brother-in-law. As the questions mount, the case forces the family to choose between their loyalties to one another and their loyalties to the department.
Cast and Crew
Starring
Nick Nolte, Edward Norton, Colin Farrell, Jon Voight, Rick Gonzalez, Jennifer Ehle, Lake Bell, Noah Emmerich, Ed Norton, Shea Whigham, Karl Bury, Kevin Cannon, Christopher Michael Holley, Ryan Simpkins, Bill McKinney, Denia Brache, Flaco Navaja, Joe James, Frank Grillo, Scott Dillin, Ty Simpkins
Directed by Gavin O'Connor
Produced by Paula Weinstein, Gavin O'Connor, Greg O'Connor
Written by Joe Carnahan, Gavin O'Connor, Gregory O'Connor, Robert A Hopes
Searching for Showtimes ...
Please specify your location using the form below
Write a review for Pride and Glory