Poseidon Showtimes and Tickets
Read Movie Reviews about Poseidon Write a Movie Review for Poseidon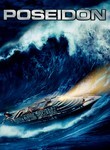 Synopsis...
When a rogue wave capsizes a luxury cruise ship in the middle of the North Atlantic Ocean, a small group of survivors find themselves unlikely allies in a battle for their lives. As the unstable vessel rapidly floods with water, they face unimaginable odds and life-altering decisions in their desperate fight to the surface.
Cast and Crew
Starring
Richard Dreyfuss, Kurt Russell, Josh Lucas, Andre Braugher, Emmy Rossum, Mike Vogel, Jerald Garner, Christos Sourmelis, Kevin Dillon, David Reivers, Freddy Rodriguez, Jimmy Bennett, Jacinda Barrett, Jordi Caballero, Kirk B.R. Woller, Valerie Azlynn, Jennifer Sciole, Andreas Beckett, Vincent De Paul, Stacy Ferguson
Directed by Wolfgang Petersen
Produced by Akiva Goldsman, Lorne Orleans, Duncan Henderson, Mike Fleiss, Diana Rathbun, Michael Fleiss, Wolfgang Petersen
Written by Paul Gallico , Mark Protosevich
Searching for Showtimes ...
Please specify your location using the form below
Write a review for Poseidon