Play the Game Showtimes and Tickets
Read Movie Reviews about Play the Game Write a Movie Review for Play the Game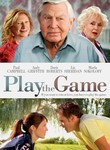 Dvd Release Date: 2010-01-29
Genre: Comedy, Romance
Rating: PG-13
Duration: 1hr 45min
Synopsis...
Twenty-eight year-old David is an expert at using his psychological skills to manipulate customers in his job as a luxury car salesman -- and manipulate women in his life as a ladies' man. When David's lonely, widowed grandpa, Joe asks for David's help in reentering the dating world to find a companion, David agrees to teach him all his secret tricks. David takes Grandpa to a singles bar and demonstrates how to arrange a chance encounter to meet a girl, and create an illusion of unavailability because "women always want what they can't have." But, when David literally runs into the intelligent and attractive Julie at a football game, he vows to get her to fall for him. All seems to go well for grandfather and grandson - but both men soon learn that while David's games work well for meeting women, they lack the ability to actually keep a woman around. Grandpa Joe dumps David's strategy, opting for the old-fashioned courtship that worked well for him sixty years earlier. While Joe uses sincerity to get closer to a meaningful relationship with Edna, David's games only make Julie seem increasingly elusive. Will David follow his grandfather's lead? And how will Grandpa Joe fare with both the vivacious free-spirited Edna and the lovely Rose?
Cast and Crew
Starring
Paul Campbell, Marla Sokoloff, Rhett Giles, Andy Griffith, Clint Howard, Jack Guzman, Rance Howard, Doris Roberts, Thomas Crawford, Liz Sheridan, Geoffrey Owens
Directed by Marc Fienberg
Produced by Marc Fienberg
Written by Marc Fienberg
Searching for Showtimes ...
Please specify your location using the form below
Write a review for Play the Game