Phoebe in Wonderland Showtimes and Tickets
Read Movie Reviews about Phoebe in Wonderland Write a Movie Review for Phoebe in Wonderland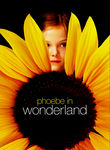 Release Date: 2009-03-06
Genre: Drama,
Rating: PG-13
Duration: 1hr 36min
Synopsis...
"Phoebe in Wonderland," concerns a young girl who longs to be in her school's production of "Alice in Wonderland." After being cast in the lead role of Alice by her eccentric drama teacher, Phoebe reveals a unique talent but, much like Alice herself, is increasingly at odds with the world around her and begins to retreat into a world of her imagination. Though her parents initially see their daughter's unusual behavior as signs of creativity, they gradually realize that Phoebe is at risk of falling "through the looking glass."
Cast and Crew
Starring
Bill Pullman, Campbell Scott, Patricia Clarkson, Felicity Huffman, Madhur Jaffrey, Elle Fanning, Peter Gerety, Max Baker, Bailee Madison, Teala Dunn
Directed by Daniel Barnz
Produced by Lynette Howell, Ben Barnz
Written by Daniel Barnz
Searching for Showtimes ...
Please specify your location using the form below
Write a review for Phoebe in Wonderland