Pedro Showtimes and Tickets
Read Movie Reviews about Pedro Write a Movie Review for Pedro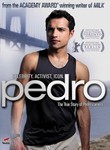 Release Date: Unknown
Genre: Drama,
Rating: NR
Duration: 1hr 30min
Synopsis...
"Pedro" celebrates the extraordinary life of Pedro Zamora, a young man who when he found out he was HIV positive at 17, made the courageous decision to dedicate the rest of his life to speaking out about his condition in an attempt to raise awareness about the disease in his community, even testifying before the United States Congress to argue for more explicit HIV/AIDS educational programs aimed at youth of color before auditioning for "The Real World" in 1993. His appearance on "The Real World" brought his story and his message to MTV's youthful audience and beyond, and when Zamora's health began to deteriorate in late 1994 (after he left the show), it became front page news nationwide, and his death at age 22 provoked a worldwide outpouring of grief.
Cast and Crew
Starring
Hale Appleman, Justina Machado, Alex Lynaz, DaJuan Johnson, Matt Barr, Alex Loynaz
Directed by Pedro Villalón, Nick Oceano
Produced by Anne Clements, Chris Panizzon, Richard Glatzer, Wash Westmoreland
Written by Dustin Lance Black, Paris Barclay
Searching for Showtimes ...
Please specify your location using the form below