Pay it Forward Showtimes and Tickets
Read Movie Reviews about Pay it Forward Write a Movie Review for Pay it Forward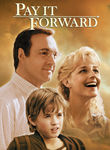 Dvd Release Date: 2001-05-15
Genre: Drama,
Rating: PG-13
Duration: 1hr 55min
Synopsis...
Eugene Simonet, an emotionally and physically scarred social studies teacher, challenges his young students to devise some type of philanthropic plan and put it into effect. A young boy, whose own life is far from rosy, takes the assignment to heart and invents the "pay-it-forward" philosophy, which encourages paying back favors in advance. The whole town embraces the boy's concept, and random acts of kindness become a community pastime. Though celebrated by acquaintances and the media, the boy struggles at home with his alcoholic mother, and the only one who recognizes his lonely fight is Eugene Simonet.
Cast and Crew
Starring
Kevin Spacey, Helen Hunt, Jon Bon Jovi, Jay Mohr, Haley Joel Osment, Jim Caviezel, James Caviezel, Angie Dickinson, Liev Schreiber, Shawn Pyfrom, Jeremy Dunn, David Ramsey, Sebastian Feldman, Bradley White, Marc Donato, Jeannetta Arnette, Frank Whiteman, Tina Lifford, Kathleen Wilhoite
Directed by Mimi Leder  
Produced by Peter Abrams, Steven Reuther, Robert L. Levy
Written by Leslie Dixon
Searching for Showtimes ...
Please specify your location using the form below
Write a review for Pay it Forward