Passport to Pimlico Showtimes and Tickets
Read Movie Reviews about Passport to Pimlico Write a Movie Review for Passport to Pimlico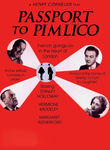 Dvd Release Date: 2005-04-05
Genre: Comedy,
Rating: NR
Duration: 1hr 24min
Synopsis...
Passport to Pimlico is one of the most charmingly whimsical Ealing Studios comedies of the late 1940s-early 1950s. As a result of wartime bombing, an ancient parchment is uncovered, proving that the Pimlico section of London belongs to Burgundy, France. Long taken for granted by other Londoners, the tiny Pimlico populace decides to take advantage of its "foreign" status.
Cast and Crew
Starring
Stanley Holloway, Margaret Rutherford, Betty Warren, Jane Hylton, Barbara Murray, Hermione Baddeley, John Slater, Paul Dupuis, Philip Stainton, Raymond Huntley, Sydney Tafler
Directed by Henry Cornelius 
Produced by Michael Balcon
Written by T.E.B. Clarke
Searching for Showtimes ...
Please specify your location using the form below
Write a review for Passport to Pimlico