Oy! Showtimes and Tickets
Read Movie Reviews about Oy! Write a Movie Review for Oy!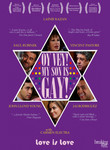 Release Date: 2009-06-25 (Limited)
Genre: Musical, Romance
Rating: NR
Duration: 2hrs 45min
Synopsis...
No matter how many relationship a man or a woman has, it is always said that first love is something that neither of them would forget. That seems to be the key essence of "Oy!" -- a tender, romantic entertainer, which is not short on comedy and also contains a message for today's generation about the responsibilities that they must realize. "Oy!" will be memorable film, not just for the youngsters but also for those who have experienced first love in their lives.
Searching for Showtimes ...
Please specify your location using the form below