Oliver! Showtimes and Tickets
Read Movie Reviews about Oliver! Write a Movie Review for Oliver!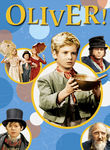 Release Date: Unknown
Genre: Drama, Musical
Rating: NR
Duration: 2hrs 23min
Synopsis...
Cast and Crew
Starring
Oliver Reed, Ron Moody, Kenneth Cranham, Joseph O'Conor, Mark Lester, Harry Secombe, Megs Jenkins, Sheila White, Hugh Griffith, Jack Wild, Norman Mitchell, James Hayter, Peggy Mount, Shani Wallis, Leonard Rossiter, Hylda Baker, Elaine Paige
Directed by Carol Reed
Produced by James Woolf
Written by Charles Dickens, Lionel Bart, Vernon Harris
Searching for Showtimes ...
Please specify your location using the form below
Write a review for Oliver!