Nobody's Perfect Showtimes and Tickets
Read Movie Reviews about Nobody's Perfect Write a Movie Review for Nobody's Perfect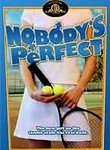 Release Date: 2010-04-16 (NY)
Genre: Documentary,
Rating: NR
Duration: 1hr 24min
Synopsis...
"Nobody's Perfect" is a portrait of twelve people who have been affected by the medication Thalidomide. Used in a number of countries from 1957 until 1961, Thalidomide was taken off the market after causing birth defects. The documentary explores the specific problems these twelve individuals have faced during childhood, adolescence and adulthood.
Cast and Crew
Starring
Maria Bello, Hank Azaria, Jeffrey Tambor, Sarah Silverman, Ellen Pompeo, Nicole Oring, Mat Fraser, Fred Dove, Stefan Fricke, Sigrid Kwella, Andreas Meyer
Directed by Hank Azaria, Niko von Glasow
Produced by Hank Azaria
Written by Hank Azaria, Andrew Emerson, Kiki von Glasow
Searching for Showtimes ...
Please specify your location using the form below
Write a review for Nobody's Perfect